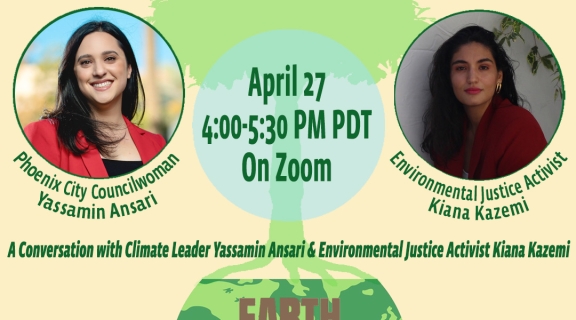 Urgent on Every Front: Engaging Our Community in Climate Action
Wednesday, April 27
Event Time
04:00 p.m. - 05:30 p.m.
Contact Email
iraniandiasporastudies@sfsu.edu
Overview
Join us on April 27th to celebrate Earth Day 2022 for an online discussion with climate leader Yassaman Ansari and environmental justice activist Kiana Kazemi. This event is free and open to the public, but you must register here: bit.ly/Urgent2022
Although there is plenty of troubling news on the climate crisis, there is one piece of good news. It's NOT too late. We can still take action. However, last month's United Nations' Intergovernmental Panel on Climate Change, portrays a challenging future for life on our planet.
Yassamin Ansari, Phoenix City Council Member and climate leader, and Kiana Kazemi, environmental justice activist will share their vision and initiatives to address this very important issue.
According to UN Secretary General, Antonio Guterres, "With fact upon fact, the ICC report reveals how people and the planet are getting clobbered by climate change. Nearly half of humanity is living in the danger zone – now. Many ecosystems are at the point of no return – now. Unchecked carbon pollution is forcing the world's most vulnerable on a frog march to destruction – now. The facts are undeniable. This abdication of leadership is criminal.
Please join us and engage with us on this critical issue of our time.