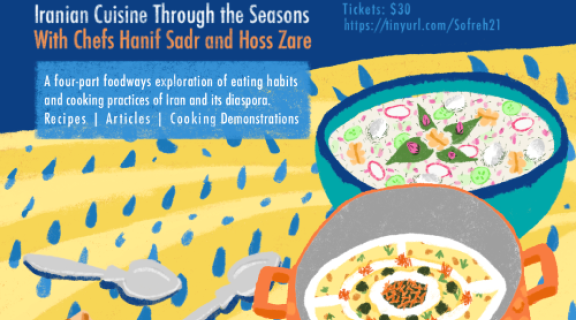 Sofreh: Iranian Cuisine Through the Seasons
Sunday, July 18
Event Time
11:00 a.m. - 02:30 p.m.
Contact Email
iraniandiasporastudies@sfsu.edu
Overview
Join the Center for Iranian Diaspora Studies and Diaspora Arts Connection for ُSofreh: Iranian Cuisine through the four Seasons with Chefs Hanif Sadr and Hoss Zare. This four-part foodways series with celebrated Bay Area Iranian-American chefs explores the food habits and culinary practices of Iran and the diaspora. This webinar features recipes, cooking demonstrations, and printed materials that document the history/culture of foods we will learn to prepare. The ticket price includes online access to cooking demonstrations and conversations with guest chefs, recipes, and articles for each season.
 
To register and buy tickets for July 18th Sofreh, follow this link.
 
Once you purchase your ticket/register, you will receive the link to attend the online event for July 18, 11:00-2:30 pm (PDT) along with printed materials. Each Sofreh season is $30.00.
About our Chefs and Foodways Researcher:
Chef Hanif Sadr was born in France and raised in Tehran, save for two influential years spent in northern Iran. His family comes from the Gilan province of Iran, which lies along the Caspian Sea. He studied materials engineering and came to the United States in 2012 to pursue a master's degree, but got sidetracked by his passion for food and cooking after spending time preparing food for a Berkeley pre-school. Since 2016, he has been a chef and founder of Komaaj, a San Francisco cafe and catering company specializing in Northern Iranian cuisine.
Chef Hoss Zare was born in Tabriz, Iran. He came to the Bay Area at the age of 22 in 1986, joining his brother who had moved to San Francisco a decade earlier. While attending classes to prepare for studies in medicine, he began working at the Fly Trap, restaurant, which launched his more than a thirty-year-long career as a chef and restaurateur in San Francisco. His culinary knowledge in French, American, and Iranian cuisine is extensive. For the past two years, Zare has been working as a chef for Google, training chefs how to integrate Iranian cuisine into their menus at Google cafes around the globe.
Nader Mehravari is a retired corporate executive and scientist with a passion for the principles and practice of Iranian cuisine and associated foodways research.