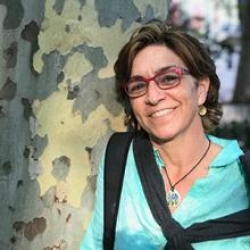 Persis Karim
Neda Nobari Distinguished Chair and Director
Phone: (415) 338-1500
Email: persiskarim@sfsu.edu
Location: HUM 503
Persis Karim is the Neda Nobari Chair of the Center for Iranian Diaspora Studies and a professor in the Comparative and World Literature department at SF State.
Karim received her Ph.D. in Comparative Literature and master's degree in Middle Eastern Studies from the University of Texas at Austin. From 1999-2017, she was a professor in the Department of English and Comparative Literature at San Jose State University, where she taught courses in English, American literature, world literature, ethnic literature, creative writing and Middle Eastern studies. She coordinated the Middle Eastern Studies minor program from 2010-2017 and was the founding director of the Persian Studies Program. 
Karim is the editor/co-editor of three anthologies of Iranian diaspora literature: Tremors: New Fiction by Iranian American Writers (2013); Let Me Tell You Where I've Been: New Writing by Women of the Iranian Diaspora (2006), and A World Between: Poems, Short Stories and Essays by Iranian-Americans (1999). She has written numerous articles on modern Iranian literature and Iranian diaspora literature for journals such as Iranian Studies, Comparative Studies of South Asia, Africa, and the Middle East, and MELUS: Multi-Ethnic Literatures of the United States. She is also a published poet.
Photo Credit: Hamid Mozaffari