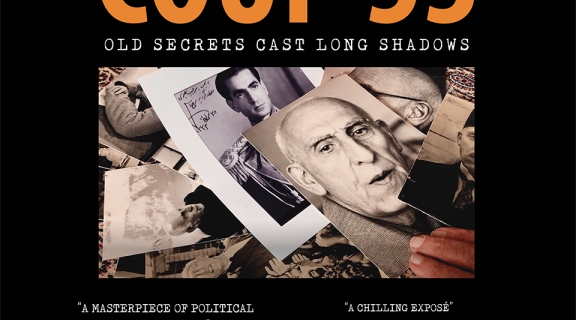 Online Screening and Discussion of "Coup 53" Documentary
Thursday, November 10
Event Time
04:30 p.m. - 06:00 p.m.
Contact Email
iraniandiasporastudies@sfsu.edu
Overview
Please join us November 10, 2022 at 4:30PM PST for an online discussion of the documentary "Coup 53." This event co-sponsored by UC Berkeley Center for Middle Eastern Studies, SFSU School of Cinema, SFSU Department of History, SFSU Department of International Studies, and Central Stage.
To register, go to bit.ly/Coup53Nov10!
Once registered, you will be given access through email to screen the film from November 7-10th, in order to participate in the November 10th online discussion. On the 10th, our conversation will include Dr. Ervand Abrahamian, author of The Coup, (Professor of History at the City University of New York) and SF State Professor of History, Maziar Behrooz.
About the Documentary: Written and directed by Taghi Amirani, and ten years in the making, "Coup 53" tells the story of the 1953 Anglo-American coup d'etat that overthrew Iran's government of Prime Minister Mohammad Mossadegh and reinstalled the Shah. The CIA/MI6 covert action was called "Operation Ajax" and was all about Iran's oil and who should control and benefit from it. Shot in seven countries, featuring participants and first-hand witnesses, and unearthing never-seen-before archive material, "Coup 53" is a politically explosive and cinematically innovative documentary that lifts the lid on secrets buried for over sixty-six years.
Edited by Walter Murch (Apocalypse Now, The Conversation, The English Patient) this documentary features 16mm footage and documents that allow the filmmakers to tell the story of the overthrow of the Iranian government in unprecedented detail and also leads to explosive revelations about dark secrets buried for 67 years. Working with actor Ralph Fiennes, (The Grand Budapest Hotel, Schindler's List, The English Patient) "Coup 53" brings this lost material to life; what begins as a historical documentary about four days in August 1953 turns into a live investigation, taking the filmmakers into uncharted cinematic waters. The roots of Iran's volatile relationship with the United States and Britain has never been so forensically and dramatically exposed.
About Maziar Behrooz: Born in Tehran, Iran, Professor Maziar Behrooz is an associate professor in the Department of History at San Francisco State University. He has authored numerous articles and book chapters on Iran and is the author of two books on the history of the left movements in Iran. His first book is Rebels with a Cause (1999), which has been translated into Persian (2001) and Turkish (2006). His second book is Perspectives on the History of Rebels with a Cause in Iran (2006) which is a collection of articles and interviews on the left movement in Iran, translated and published in Iran and in Persian. His current research project is about late 18th century-early 19th century encounters between Iran and the Western world. His new book titled Iran at War: Interactions with the Modern World and the Struggle with Imperial Russia is due to be published in May 2023.
About Ervand Abrahamian: Ervand Abrahamian was Distinguished Professor of History at the City University of New York. He is now Professor Emeritus of History at Baruch College and the Graduate Center in the City University of New York. He is the author of: Iran Between Two Revolutions (Princeton University Press, 1982); The Iranian Mojahedin (Yale University Press, 1989); Khomeinism (University of California Press, 1993); Tortured Confessions: Prisons and Public Recantations in Iran (University of California Press, 2004); A History of Modern Iran (Cambridge University Press, 2008); and The Coup: 1953, The CIA and the Roots of Modern US-Iranian Relations (The New Press, 2013). His books have been translated and published in Persian, Turkish, Arabic, Italian, and Polish. He has just completed Oil Crisis in Iran: From Negotiations to Coup (Cambridge University Press, 2021). In 2011, he was elected Fellow of the American Academy of Arts and Sciences.