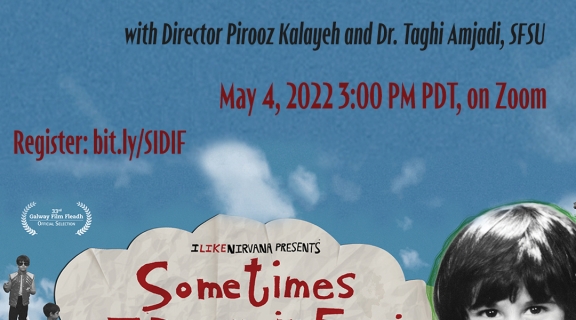 Film Screening & Discussion with Pirooz Kalayeh
Wednesday, May 04
Event Time
03:00 p.m. - 05:00 p.m.
Contact Email
iraniandiasporastudies@sfsu.edu
Overview
Join us online May 4th, 2022 at 3:00 PM PDT for a screening and discussion of Sometimes I Dream in Farsi, a documentary film by Pirooz Kalayeh. Co-sponsored by the Marcus Endowed Chair in Social Justice Filmmaking and the School of Cinema at SFSU, we are pleased to be joined in discussion by the film's director Pirooz Kalayeh and faculty member at SFSU's Counseling & Psychological Services, Dr. Taghi Amjadi.
This event is free and open to the public, but you must register to attend: https://bit.ly/SIDIF
After remembering a traumatic racist incident in his childhood, Pirooz Kalayeh decides to document his journey to recovery, traveling back to the barbershop where he was refused a haircut as a child, and then doing a series of roleplays with family, friends, and children to understand how racism leaves lasting effects and how he and others can heal and move forward.
Pirooz Kalayeh loves combining his multifaceted experiences as an artist, musician, writer, actor, and director to create new hybrids and innovations in storytelling. Formerly a neuroscience major and obedient first generation immigrant, Pirooz broke with tradition and gave heart attacks to Iranian parents everywhere by joining musical group Cecil's Water and touring with such acclaimed artists as The Caulfields, The Toasters, Ruder Than You, Spindrift, The Verge, and others. His films include Shoplifting from American Apparel, The Human War, Brad Warner's Hardcore Zen, Zombie Bounty Hunter M.D., and Ctrl Alt Del, His web series is Stories Between Iran & America. His latest documentary feature is Sometimes I Dream in Farsi.
Dr. Amjadi has been working with Bay Area's multicultural populations in his private practice and variety of community based organizations since the mid 1990s. He also has been adjunct faculty at University of San Francisco, and John F. Kenney University. His concentration is in the areas cross-cultural psychotherapy, trauma, and relationship. Taghi is a recipient of two awards from United State Gongressman, 7th district of California; and Contra Costa County Juvenile Justice Program for "out-standing community support and services." Taghi has been involved in variety of social justice activities and community/cultural programs since 1977.