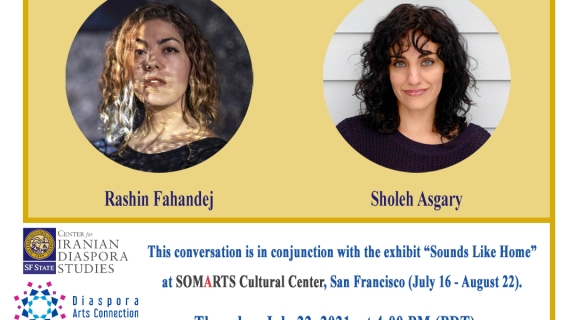 A Father's Lullaby, A Poetic Movement for Social Change: A Conversation
Thursday, July 22
Cost
Free (registration required)
Location
SOMArts Gallery (934 Brannan Street, San Francisco)
Contact Email
iraniandiasporastudies@sfsu.edu
Overview
Join us for an online conversation with Rashin Fahandej, creator of "A Father's Lullaby," and Bay Area sound artist, Sholeh Asgary, on July 22, 4:00 pm (PDT). This event is free and open to the public, but registration is required.
Registration link: http://tinyurl.com/CenterJuly292021
"A Father's Lullaby" is part of a physical and virtual exhibition "Sounds Like Home" which opens on July 16th at the SOMArts Gallery (934 Brannan Street, San Francisco). It is an ongoing series of interactive public installations, community-engaged workshops, and a participatory website by Boston-based artist Rashin Fahandej. Intimate interviews, songs, and lullabies offer poetic meditations on the spaces of love and trauma, presence and absence, and the power of personal memories to interrogate the structural violence of mass incarceration.
A Father's Lullaby also highlights the role of men in raising children and their absence due to the racial disparities in the criminal justice system and its direct impact on children, women, and lower-income communities. The project is centered on marginalized voices of absent fathers while inviting all men to participate by singing lullabies and sharing memories of childhood; this exhibit uses art and technology to mobilize a plethora of voices while utilizing public places and virtual spaces to ignite a more inclusive dialogue to effect social change.
Explored through the space of love and intimacy, the project is being developed with community members as creative collaborators.
About the Artists
Rashin Fahandej is an Iranian-American multimedia artist and filmmaker. Her projects center on marginalized voices, and the role of media, technology, and public collaboration in generating social change. A proponent of "Art as Ecosystem," Rashin defines her projects as "Poetic Cyber Movement for Social Justice," where art mobilizes a plethora of voices by creating connections between public places and virtual spaces.
Rashin is the founder of A Father's Lullaby, a multi-platform, co-creative project that highlights the role of men in raising children and their absence due to racial disparities in the criminal justice system. Marginalia, a series of poetic documentaries about Baha'i immigrants of Iranian descent, narrates a historical persecution in their homeland.
Rashin has served as an artistic director of the Rebuilding the Gwozdziec Synagogue at POLIN Museum of the History of Polish Jews, 2017 Boston Artist-In-Residence with Mayor's office of art and culture and 2018 Public Art Resident at Boston Center for the Arts. She is a research fellow at MIT Open Documentary Lab and the 2019 Mass Cultural Council Artist Fellow, Artist in Residence at ThoughtWork Arts and the Institute of Contemporary Arts in Boston James and a recipient of the Audrey Foster Prize.
Sholeh Asgary is an Iranian-born interdisciplinary sound artist whose practice is shaped by her early somatic experiences as a refugee. Situating the body as a site of knowledge, her immersive works, performances, and audience participatory scores implicate the viewer-participant into future mythological excavations, bridging large swathes of time and history, through water, water clocks, crude oil, movement, light, imaging, voice, and sound. She has exhibited and performed at various institutions including ARoS Kunstmuseum (DK), Sotheby's Institute of Art (NY), Minnesota Street Project (SF), Charlotte Street Foundation (MO), and Gray Area Foundation for the Arts (SF). A 2020 California Arts Council grantee for her participatory performance series "Majles," she is also a recipient of a 2019 Kenneth Rainin Foundation NEW Commissioning grant through Dance Elixir, and recipient of a 2014 Alternative Exposure Grant for curatorial initiatives as Curator and Director of Education and Public Programs at Incline Gallery, where she founded The Project Room. Asgary has participated in numerous residencies, current and most recently including Mass MoCA (2021), Headlands Center for the Arts (2021), Real Time & Space (2021), Wassaic Project (2020), ARoS Kunstmuseum (2021), and Kala Art Institute (2020). Currently residing in Oakland, CA, where she is a Lecturer at UC Berkeley's Department of Art Practice, teaching Global Perspectives in Contemporary Art, she received her MFA from Mills College and BA from San Francisco State University and has lectured extensively on photography.
E-mail: iraniandiasporastudies@sfsu.edu