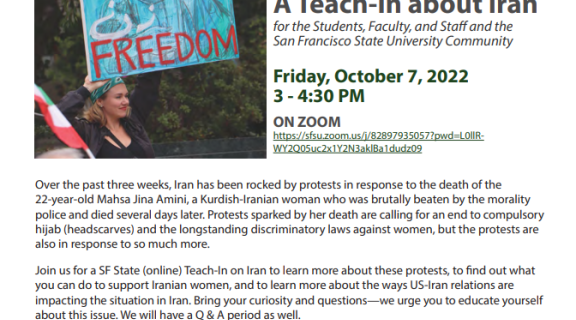 A Teach-in About Iran, October 7, 2022
Friday, October 07
Event Time
03:00 p.m. - 04:30 p.m.
Contact Email
persiskarim@sfsu.edu
Overview
Over the past three weeks, Iran has been rocked by protests in response to the death of the 22-year-old Mahsa Jina Amini, a Kurdish-Iranian woman who was brutally beaten by the morality police and died several days later. Protests sparked by her death are calling for an end to compulsory hijab (headscarves) and the longstanding discriminatory laws against women, but the protests are also in response to so much more.
Join us for a SF State (online) Teach-In on Iran to learn more about these protests, to find out what you can do to support Iranian women, and to learn more about the ways US-Iran relations are impacting the situation in Iran. Bring your curiosity and questions—we urge you to educate yourself about this issue. We will have a Q & A period as well.
Speakers:
Dr. Maziar Behrooz, Department of History
Dr. Persis Karim, Center for Iranian Diaspora Studies
Dr. Mahmood Monshipouri, Department of International Relations
Hasti, Graduate Student SF State (from Iran)
Moderated by Dr. Blanca Missé, Department of Modern Languages and Literatures
Open to all members of the campus community and beyond
For more information: persiskarim@sfsu.edu