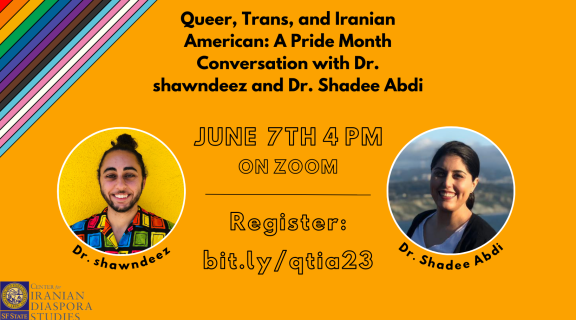 Queer, Trans, and Iranian American: A Pride Month Conversation with Dr. shawndeez and Dr. Shadee Abdi
Wednesday, June 07
Event Time
04:00 p.m. - 05:30 p.m.
Overview
Please join the Center on zoom, June 7 at 4 PM (PDT), for our event, Queer, Trans, and Iranian American: A Pride Month Conversation with Dr. shawndeez and Dr. Shadee Abdi.
Dr. Persis Karim will be in conversation with these two scholar/writers about the perceptions, joys, and challenges of being queer and trans in the Iranian diaspora community. Our conversation will include Dr. shawndeez (they/them) who received their doctorate in UCLA's Department of Gender Studies. As a Gender Studies Instructor, they taught courses on Trans Magic, Queer & Trans Muslim Feminisms, and QTPoC Resistances. Their dissertation research explored how queer and trans Iranian Americans engage with the spiritual as a form of resilience, healing, and possibility. shawndeez is also the founder and editor of khejalat, a digital zine created by and for the queer and trans Iranian diasporic community. They are now a full-time public speaker, spiritual guide, and workshop facilitator, offering spiritually-conscious spaces for queer/trans people to lean into their joys.
Dr. Shadee Abdi is a critical cultural communication scholar whose research interests include intercultural, international and diasporic communication, sexuality studies, family communication, performance studies, and performances of Iranian diaspora. Broadly, her work explores how conflicting discourses complicate and enhance our intersectional understandings of identity and power relative to race, culture, sexuality, gender, nationality, religion, ability, class, and family. She is specifically interested in narratives of resistance within familial and mediated contexts. Prior to SF State, she was an Assistant Professor of Communication at Arizona State University.
To register for this online conversation, go to bit.ly/qtia23.