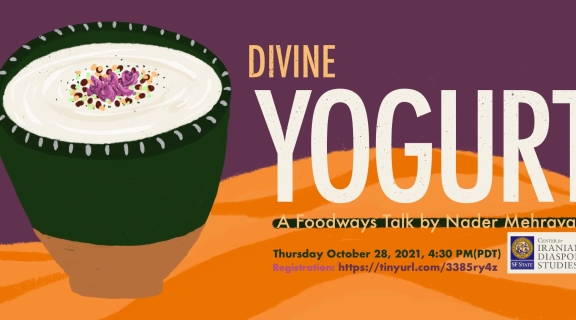 Divine Yogurt: A Foodways Talk by Nader Mehravari
Thursday, October 28
Event Time
04:30 p.m. - 06:00 p.m.
Cost
Free (registration required)
Contact Email
iraniandiasporastudies@sfsu.edu
Overview
Join us for "Divine Yogurt," part of a foodways exploration of Iranian cookery and food practices. Nader Mehravari will talk about Iranian foodways through an investigation of culture, history, environment, both in Iran and the diaspora. This event is free and open to the public.
About Nader Mehravari:
Dr. Nader Mehravari has been studying the principles and practices of Persian cookery for the past 30 years – initially as a serious side activity and now, post retirement, full-time. His current interests have led him to dig deeper into historical documents about Persian cookery, recreating traditional and authentic Persian dishes in a typical modern western home kitchen, and carefully documenting associated methods behind food groups and/or individual dishes. His academic and professional background is in science, engineering, and technology which allows him to incorporate a structured and scientific approach into his culinary passion. He received his PhD from Cornell University in 1982. He is a retired corporate executive, has taught at Cornell, Syracuse, and Princeton Universities, and has published extensively.