Documentary Film Institute
Creating a Documentary Film
"We Are Here" documents the complex personal histories that have brought Iranians to the San Francisco Bay Area for more than fifty years. This 60-minute documentary and virtual reality experience explores the history, struggles, and impact of four generations of Iranian immigrants to the Bay Area, despite having been continuously "othered" by the tense relationship between the US and Iranian governments and negative media headlines since 1979. "We Are Here" captures the resilient and complex character of this immigrant community, its challenges and successes, as well as the ways it has contributed to the Bay Area's culture and communities.
Based on interviews with 25 different individuals who live, work, and contribute to life and culture of the San Francisco Bay Area, "We Are Here" will portray the history of local Iranian Americans and the challenges they have faced as a group struggling to find acceptance and understanding in the long shadow of larger political and historical events. In giving voice to a complicated facet of our local culture and US history in the post-War period, this film has an immediate connection with the larger Iranian American community in California and across the US. It will also appeal to a number of other diaspora communities that have grown into generations of "deep" Californians who made it their home despite the obstacles they faced. This film has the potential to spark urgent conversations about American identity in a time of growing fear and divisiveness.
The project involves the creation of a feature film as well as a VR experience that is hosted at each collaborating organization and before each film screening. The VR portion of the project is meant to invite the audience into the story on a very intimate level. VR allows us to give an audience member a chance to walk in the shoes of an Iranian American and see the world from their eyes. This personal sensory experience will cultivate an audience that encounters the film with a newly found appreciation.
The project is a ground-breaking collaboration with the Documentary Film Institute.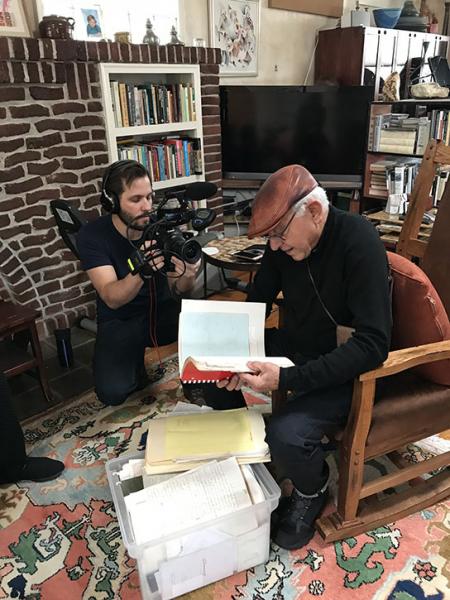 School of Art and Fine Art Museums of San Francisco
Teaching Art of the Middle East and the Islamic World
In the fall of 2017, a two-day conference entitled 'Teaching Art of the Middle East and the Islamic World' was convened in San Francisco, with organizational leadership from the Center for Iranian Diasporic Studies, and other units at San Francisco State University, and the Fine Arts Museums of San Francisco. This hour-long video provides a glimpse of some of its provocative presentations by scholars, curators and artists - and related discussions focusing on developing curricula.
Please see this Final Report (PDF), which includes a summary of the presentations, a bibliography and resources for educators. The report outlines recommendations developed during the workshop and identifies the teachers, artists, scholars and designers who participated in the conference.
Association for Iranian Studies
Conference Report
Iranian Diaspora Studies Through a Wider Lens: A Report on the "Iranian Diaspora in Global Perspective" Conference at UCLA, February 2023
Persis Karim (Center for Iranian Diaspora Studies, San Francisco State University) and Amy Malek (Iranian and Persian Gulf Studies, Oklahoma State University)
On February 16-17, 2023, the "Iranian Diaspora in Global Perspective Conference" brought researchers from around the world together to convene in Los Angeles during a historic year for Iran and the Iranian diaspora. Hosted by the UCLA Center for Near Eastern Studies (CNES), the conference was the result of a year-long collaboration between three institutional partners (UCLA CNES, SFSU Center for Iranian Diaspora Studies and OSU Iranian & Persian Gulf Studies). The three co-organizers— Dr Kevan Harris, Dr Persis Karim, and Dr Amy Malek – endeavored to reflect new directions of Iranian Diaspora Studies, and especially research being conducted beyond North America & Europe by a diverse and multi-generational group of scholars highlighting comparative, transnational, interdisciplinary, and queer approaches to the diaspora. As a result, the program reflected a more global and sophisticated research agenda for Iranian Diaspora Studies than even just four years ago when the Center for Iranian Diaspora Studies hosted the first conference on Iranian Diaspora Studies in the spring of 2019.
The ongoing protests in Iran since the death of Mahsa Jina Amini on September 16, 2022 were top of mind for most participants, who noted the echoes of Iran's earlier tumultuous social movements that had contributed to the formation of the modern global diaspora we study. The opening panel of the conference, "Global Iranian Diaspora Studies: Critical Reflections on the State of the Field," engaged with the ways these protests and the Woman-Life-Freedom movement in Iran has awakened diaspora consciousness in both positive and troubling ways. This panel featured remarks from Professor Shahram Khosravi of Stockholm University, Professor Manijeh Moradian of Barnard College, Professor Nima Naghibi of Toronto Metropolitan University, and Professor Nasrin Rahimieh of UC Irvine. The tone set by these established scholars inspired the conversations that would take place over the course of the two days, contributing to a new generation of diaspora studies scholarship that is anti-nationalist, anti-sexist, anti-racist, and endeavors for greater inclusivity. 
Fourteen panels convened and generated rich questions and conversations. They addressed topics like transnational politics and history; race, class, and (un)belonging; diaspora literature, theater, performance, music, and film; diasporic archives and archival practices; critiques of reductionism and representation; challenges to diaspora demographic studies; the intersections of identity, food, and community; the circulations of Iranian migration and cultural production; oral histories and the importance of diasporic place and space; off-shore detention and resisting borders as state violence; and the study of diaspora religion, spirituality, and communitarian belonging. The array of topics examined in panels across the two days, as well as in films screened in a series running concurrent with panels, reflected not only a more diverse disciplinary approach to the field, but also a more international set of perspectives. In addition to strong showings from Iranian diaspora strongholds like Toronto and California, panelists hailed from Australia, Brazil, France, Germany, Hungary, Italy, the Netherlands, Spain, and the United Kingdom.
A highlight of the conference was no doubt the presence and participation of Dr. Hamid Naficy, Professor Emeritus of Northwestern University (Radio/Television/Film), whose contributions to the study of Iranian exilic and diasporic media and film have been fundamental to the evolution of Iranian Diaspora Studies. His many publications continue to be a wellspring of research and theory upon which many of us continue to draw. As Guest of Honor for a reception and screening at the UCLA Fowler Museum of the 2017 documentary, "Mouth Harp in Minor Key: Hamid Naficy in/on Exile," by Maryam Sepehri, in a post-screening discussion Dr. Naficy shared reflections from the film, his work in film and media studies, and his life as a student and scholar. A UCLA and USC alum, many former colleagues and friends of Dr. Naficy were in attendance, as well as his dear wife Kelly, making for a rich and heartwarming evening in honor of an incredible scholar, mentor, and colleague.
Among the many features of the conference that were notable for us as co-organizers were the warm feeling of camaraderie after lockdowns due to COVID-19, but also the ways that the smaller, more focused agenda of the conference facilitated rich exchanges between those of us whose work often falls between or across singular disciplines. The conference offered a space of co-creation and collaboration, where a growing network of scholars are raising critical questions while moving with a shared ethos of reciprocity and generosity. We left invigorated and inspired, and, while there is much important work to do, this conference demonstrated that the field is bursting with talent, including promising junior scholars and graduate students who are eager to continue the work of those who have worked so hard to pioneer this field of study.