Drawing upon San Francisco State University's robust academic foundation of ethnic, racial and social justice, the Center for Iranian Diaspora Studies inspires interdisciplinary inquiry and exploration of Iranian diaspora experience and its impact on transnational identity.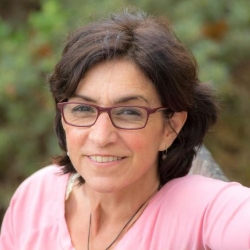 Message from the Director
"This center, the first of its kind, represents a bold new initiative for a field that has been gaining international recognition. The center's vision is to support and disseminate this new scholarship and to showcase the diverse and unique cultures of Iranian diaspora communities in the Bay Area, California and globally. Revolution, war, migration and the complex transnational identities that emerge from these circumstances are shared by so many other communities and cultures today. The center draws on SF State's strong foundation of studying ethnic, racial and social justice issues in the arts, humanities and social sciences to create opportunities for collaboration and exchange around the Iranian diaspora both in and outside the University."
- Dr. Persis Karim, Director
Watch philanthropist Neda Nobari and dean Andrew Harris discuss their vision for the Center.