On Friday, March 29th, 2019, speakers, scholars, students and artists from across this country and several other countries convened at the Seven Hills Conference Center at San Francisco State University for the "Forty Years & More" conference on Iranian Diaspora Studies. The three-day, sold-out event marked the anniversary of the 1979 revolution by emphasizing forty years of diaspora in all of its complexity. Panels and speakers shared exciting new research on diaspora communities, and the conference showcased literature, art, film and media as well as celebrated with music, food and fashion.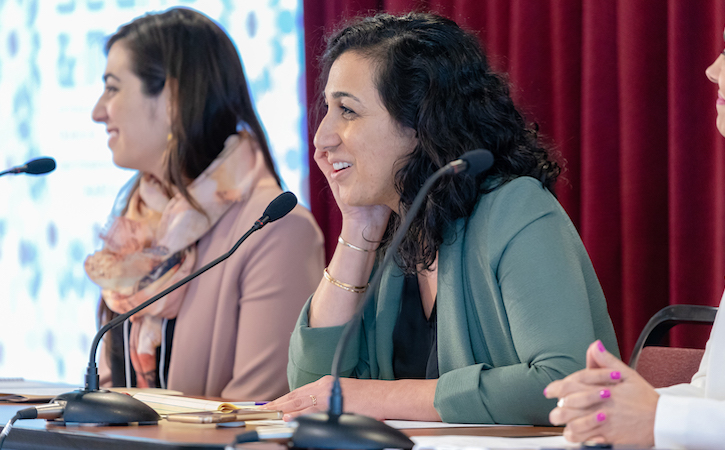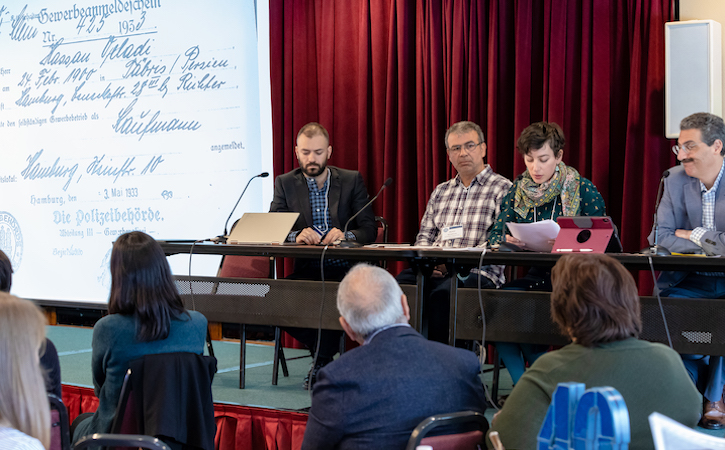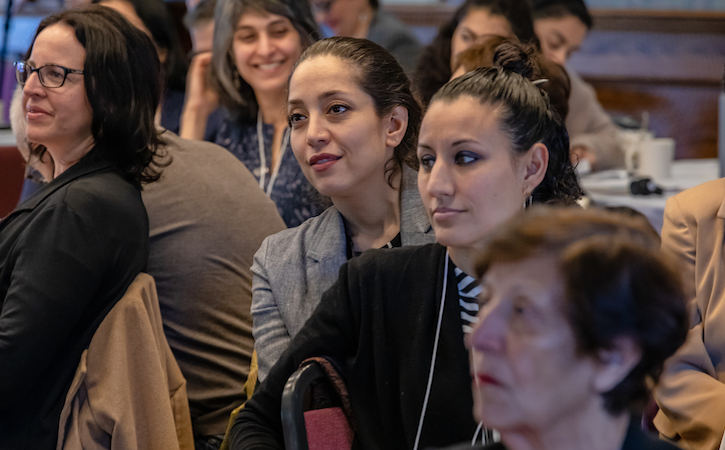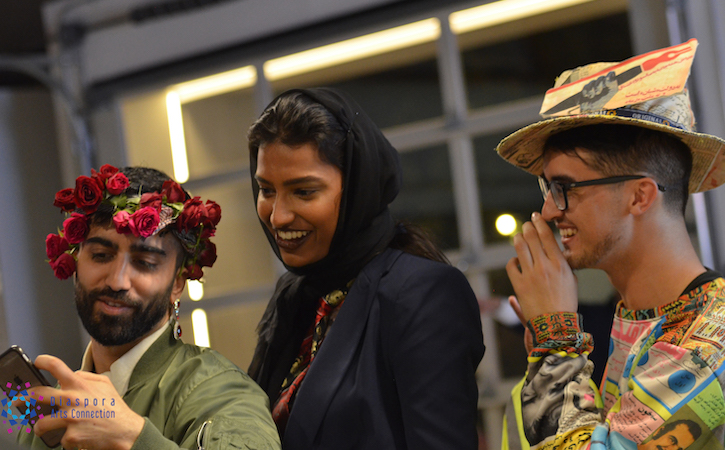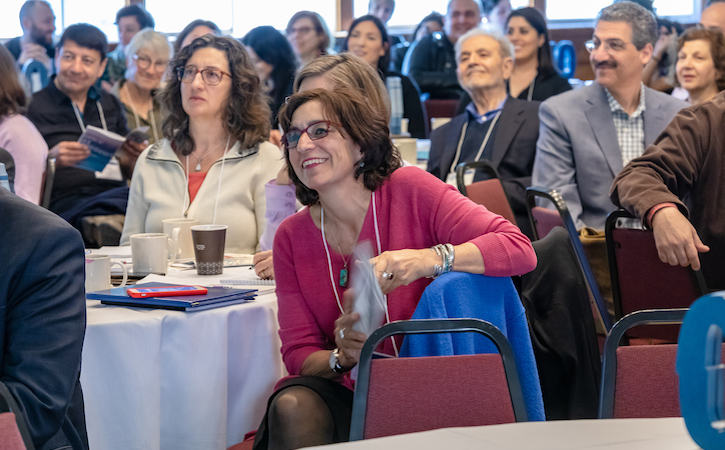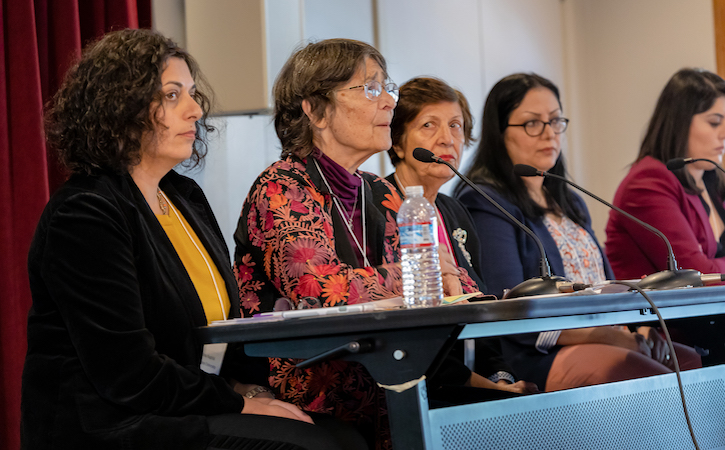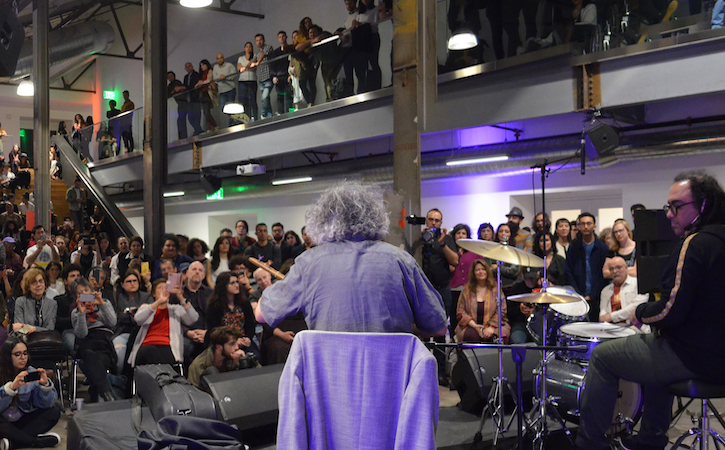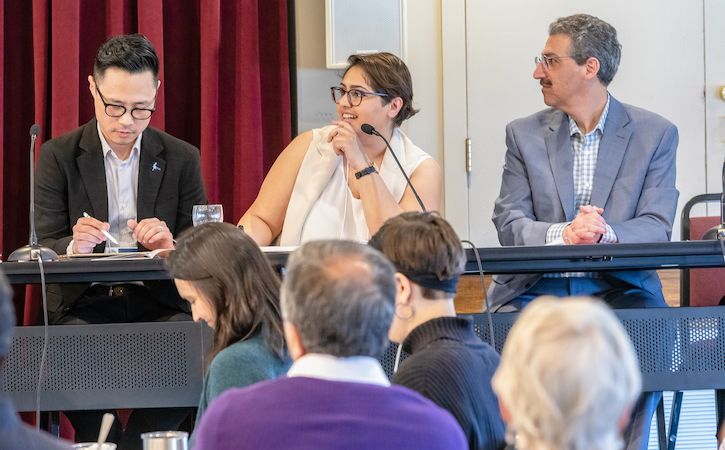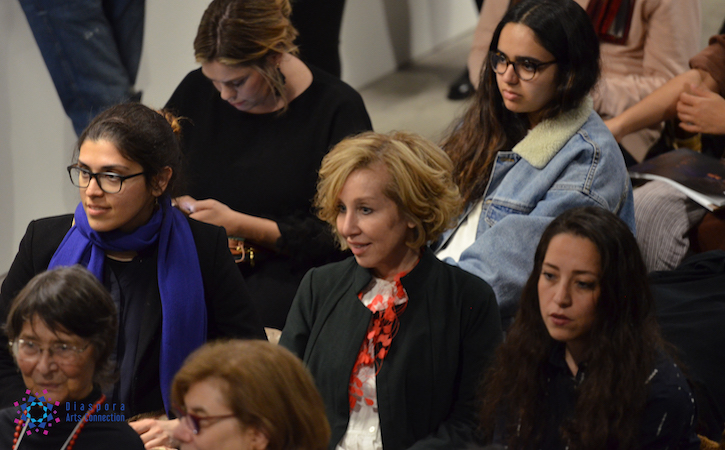 "Forty Years & More" Conference a Huge Success
Among the many conversations that were overheard during the conference, there were several words that were repeatedly uttered to describe the gathering: "historic," "groundbreaking," and "inclusive." The conference brought together scholars, artists and thought leaders from 45 universities, and from seven different countries, many of whom had heard of, or read each other's work, but never met before. The conference generated many exciting and novel conversations about the arts and humanities and the need to focus on the unique experiences of the diaspora to generate new research that highlights the present and future — as opposed to the past. Panelists called for the need to engage both Iran and the Iranian diaspora to enrich our understanding of the ways that Iranian immigrants and second and third generation hyphenated Iranians are facing challenges, innovating their culture(s), and offering alternative views to current global crises around a number of issues. Among the highlights of the conference were three dynamic keynote speakers: Dr. Amy Malek speaking on "Iranian Diaspora Studies as Transnational Inquiry," Dr. Neda Maghbouleh, speaking about her own personal story and her journey as a second-generation Iranian American and to writing, The Limits of Whiteness: Iranian Americans and the Everyday Politics of Race, as well as Dr. Beeta Baghoolizadeh, who shared the power of global archive for Persianate culture and history. Among the other dynamic panels were: a panel of social justice advocates including Elica Vafaie, Raha Jorjani, Niaz Kasravi, and Mana Kharrazi, responding to increasing hatred and violence toward immigrants, and specifically, challenges to the Muslim Ban, as well as the growing racialization of Muslim and Middle Eastern people; a panel of practicing Iranian diaspora artists that included Taraneh Hemami, Gelare Khoshgozaran, Ala Ebtekar, and Tannaz Farsi, moderated by Dr. Shiva Balaghi; and a dynamic panel on "Race and Racialization in the Iranian Diaspora." The entire two days of the conference was rich with discussion, dynamic new topics on music, film, and literature, as well as new research on Iranian diaspora communities worldwide.
For more on the conference, visit the College of Liberal & Creative Arts new article.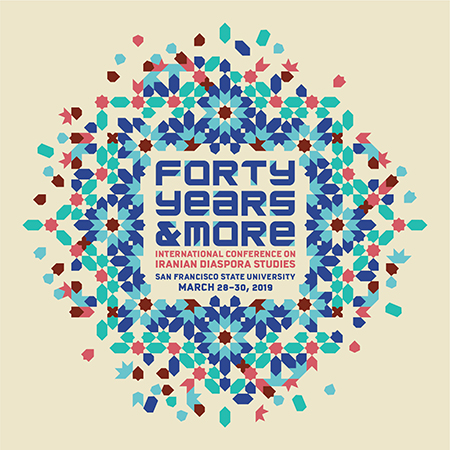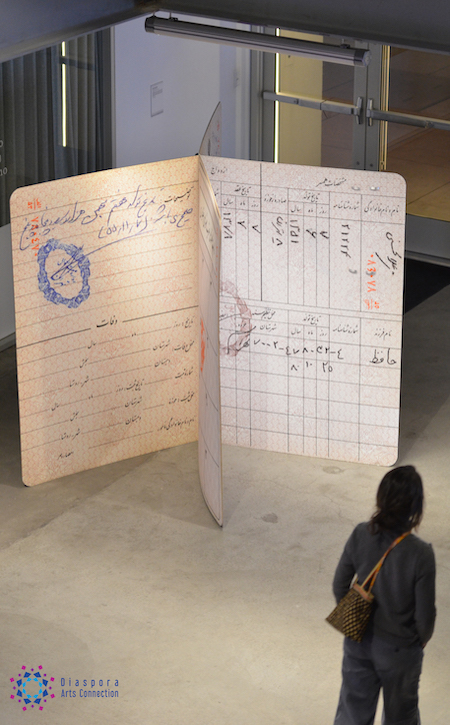 "Once at Present" Art Exhibit and Events
Bay Area artist Taraneh Hemami is widely known for leading the charge for community-building and the arts of the Iranian diaspora. For the conference, the Center was fortunate to sponsor the curatorial genius of Hemami and SF State lecturer, Kevin B. Chen, who assembled an all-star cast of 19 Bay Area Iranian diaspora artists whose work was part of the show, "Once at Present" at the Minnesota Street Gallery. "Once at Present," which will be on display until April 20th, features the work of internationally recognized artists Ala Ebtekar, Shiva Ahmadi, Sanaz Mazinani, Pantea Karimi as well as 14 other established and upcoming artists from the San Francisco Bay Area such as Shirin Khalatabari, Shirin Towfiq and Kayvan Shovir. These artists' installations feature print and photography, video, soundscapes and sculptures using everything from gutter pipes to skateboards to pressure cookers and printed fabric. The exhibit has also featured a number of events including a panel discussion last weekend with Shiva Ahmadi, Sanaz Mazinani, Taravat Talepasand and visiting artist Abbas Akhavan (from Canada), moderated by Asian Art Museum curator, Marc Mayer. The Center will host a final performance with Sholeh Asgary and Cyrus Yoshi Tabar next Saturday, April 20th, from 4-6 p.m. for the show's closing.
For more information, go to our Facebook page for "Once at Present".
A Manifesto for Iranian Diaspora Studies?
What makes a body of scholarship worthy of study? What makes it a sub-field in a larger category of disciplines such as history, sociology, anthropology? For many who study the Iranian diaspora, no one discipline or area of study (Middle East Studies, American Studies, Humanities) is large enough or adequate enough to encompass the breadth and range of topics that are now part of Iranian diaspora studies. It is beyond a single national area or field of study and the "Forty Years & More" conference was testament to this idea. Iranian diaspora studies emerges from both the tragic consequences of a history that has been minimized, erased, misrepresented, or ignored from several national histories, including Iran and the US, but also engages the idea that immigration does not stop at the single historical juncture when people immigrate and take up residence in another country. Dr. Michael Jin's (University of Illinois) playful and poetic presentation, "From Tehran to Seoul to Los Angeles: The Iranian Diaspora and Transnational Circuits of Change" showed just how fluidly and innovatively culture travels the globe and how communities influence each other. Similarly, Arash Saedinia's "Havaaye Diyaaro Daaram: Diasporic Sounds and the Rise of Tehrangeles Pop," a powerful tribute to the ways that Iranian music in the diaspora circulates in music cultures of Los Angeles and finds its traces in contemporary rap music, show the borderless nature of culture and the important reasons for studying it in a music context. Iranian diaspora studies is neither separate from nor exactly like Iranian Studies — it builds on and projects itself upon the idea that no culture or history is static, and that to understand it, we must have innovative and open boundaries within our disciplines. We hope that with this inaugural conference of Iranian diaspora studies at SF State, we can continue to envision a field of study that interacts with, draws upon, and generates exchanges with a variety of fields, as well as opens itself to collaboration with scholars, disciplines and other diaspora communities. We welcome your ideas about what might constitute the foundations and criteria for this field and hope to engage scholars with this, outside those who were at the conference.
Director's Message and Thanks
A year and a half ago, when I began as the inaugural director of the Center for Iranian Diaspora Studies, I dreamed of a conference that would mark the 40th anniversary of the Iranian revolution, but also signal the emergence of the field of Iranian diaspora studies, which I had seen grow tremendously over the past decade and a half. From my vantage point, it was time to share with each other the vast and rich research and the many approaches that were being taken to understand what had become of Iranians in the aftermath of one of the largest transnational migrations of the 20th century. The conference was everything I dreamed of and much more! Thank you to all of you who traveled from near and far to be with us during two days of panels, presentations, and conversations and for your thoughtful and timely presentations. Thank you to program assistant, Kathy Bruin for her tireless and precise planning to make everything go so smoothly. Thank you to Center assistant, Nick Nguyen for picking up all the pieces and helping to make so many aspects of the conference and the closing reception run so well. Thank you to the many volunteers who helped us with book and t-shirt sales, registration, and the receptions. We also want to thank Supervisor Ahsha Safaí, District 11 of San Francisco for his proclamation of March as "Iranian Diaspora Month" read by aide, Monica Chinchilla at the opening of our conference at the "Part and Parcel" art exhibit at the San Francisco Arts Commission Gallery. We hope to collaborate with some of you on further events, including the next conference, which, we hope will take place within five years at a yet-to-be determined location. We hope you'll continue to involve yourself in this field and share your ideas and vision with the Center!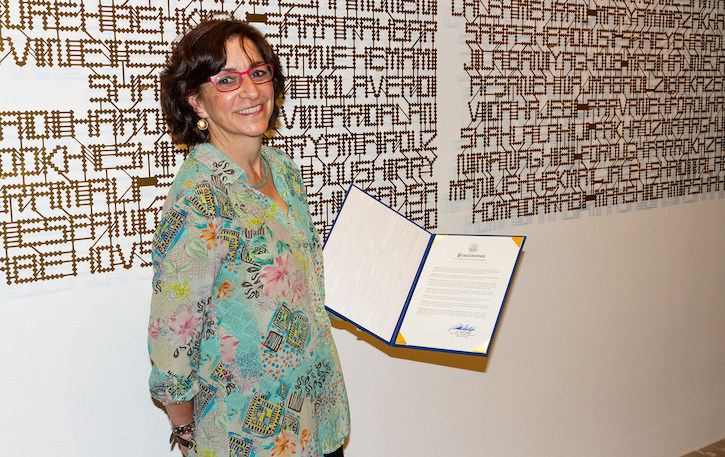 Conference YouTube
Who Are You? #SoAreWe
As we mark the 40th anniversary of the 1979 Iranian revolution, Who are you? #SoAreWe explores underrepresented narratives about identity, culture, and the challenges Iranian immigrants have faced, while also celebrating stories of renewal and resilience of those living in the diaspora.
"Forty Stories," the centerpiece of the campaign, is a series of interviews that weave together a rich tapestry of stories, reflections, and commentaries that inspire deeper connections, compassion and understanding of diaspora populations the world over.
40 STORIES
In the forty years since the 1979 revolution, Iranian diaspora communities around the world have inspired countless examples of courage and creativity in the face of difficulty. They have also drawn on a spirit of renewal and reinvention in rooting themselves in new locations. Watch some of these poignant and inspiring accounts here.